Watch Mr. John Gordon on YouTube (Tim Kornowski's art mentor) draw the original Green Bay Packers logo, which he designed, and Vince Lombardi approved: "A Letter to Reckon With."
Some photos of Tim painting "en plein aire"... (2013)
DC Sports and Classic Car Show- August 17, 2013
"Tim Kornowski of Sturgeon Bay paints an oil of Chris Bigelow of Kaukauna's white 1973 Datsun 240Z."
Courtesy of: Door County Advocate
Redwall: Cavern Hole Mural
Excerpt from the Presentation- June 24, 2011:
"I met Steve and Alan on 3rd Avenue in Sturgeon Bay on Fire and Ice Day early this year. It was 23 degrees outside painting in the open air. They talked to me about a potential mural for their house. I shook their hands and said goodbye (could not feel my own!)
We met at their house to discuss the mural. I had never heard about the Redwall series written by the late Brian Jacques, so it was definitely a daunting task. I took some materials home with me, and read the first book in the series, to get a good feel for it. After a lot of thought and prayer, God gave me the image to go with their idea in the last few pages of the book!
We had already decided it was best to change the location of where inside the house the mural should be painted. The first choice was a much larger foundation wall in the far side of the basement. The second was chosen, which was the downstairs living room. This worked out much better as the mural was ultimately painted for Alan's grand-kids. And, suffice it to say, it is much easier to enjoy art with a coffee in your favorite chair than in an exercise room doing bench presses on a Bowflex!
Then we met again and Steve and Alan approved the drawing and it was time to go to work. The only thing they wanted differently were the two dibbuns (baby animals) under the table!
All in all, it was an 8-9 day job. The video Steve made shows the different stages of the work. 6 days of painting, 3 Redwall audio books, half a dozen Alan-made Keurig coffees, 9 Labrador stampedes, twice the amount of washroom breaks as Keurig coffees later, the painting was finished. I proudly present to you Redwall: Cavern Hole!"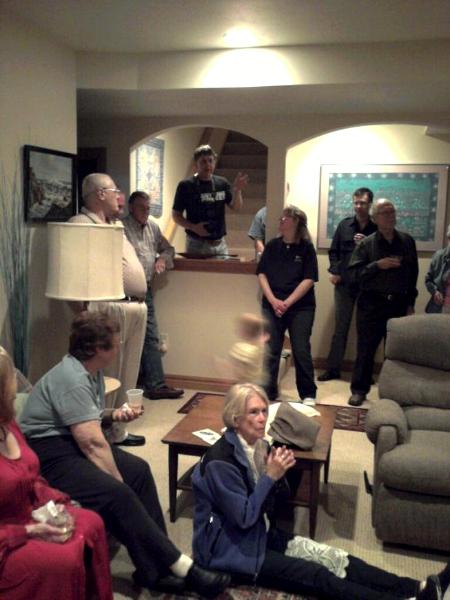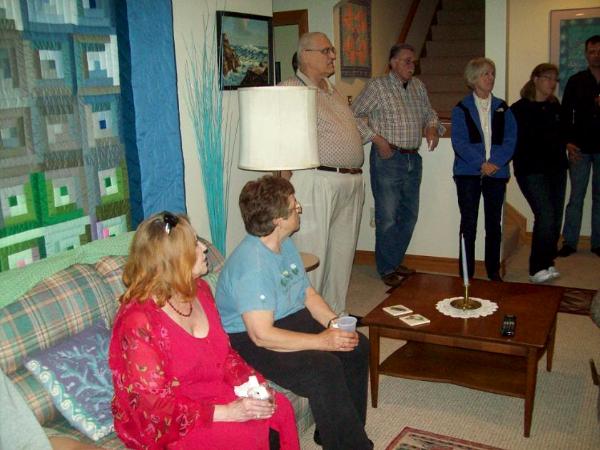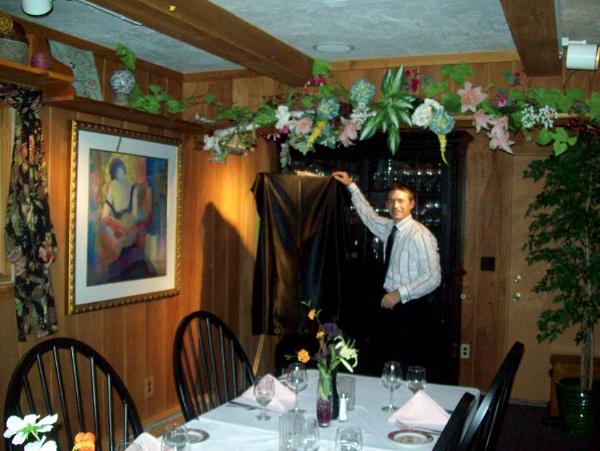 "An Evening We Will Never Forget"- June 8, 2011
The evening of June 8th, 2011, was probably the most fulfilling moment of my career as an artist. With my lovely wife Jennifer by my side, I was blessed to present a masterpiece to the DuQuaine family of Freedom, WI. In celebration of their 10th anniversary, Deric DuQuaine took it upon himself to bless his wife Julie with a surprise: a portrait painted by the artist they both met 10 years ago in Door County on their honeymoon! This was not just any portrait; but a portrait of their beautiful daughter Annabelle on a white horse with their future home in the background. As another surprise, Annabelle herself showed up with Kathy, a relative of the family. It was splendid to finally meet the person behind the portrait!
The place was Sister Bay, WI, at the historic Mission Grille. The time was 5:15pm. Amidst tears of joy, a loving wife's anxieties were put to rest (after two months of wondering what her gift might be) with well-received kisses to her husband of 10 years.
Much pleasant conversation, many a Kodak moment, and 16 oz. of Filet Mignon later, Julie was still taking in the wonderful surprise her husband had prepared for her (and my wife was still taking it in too!). What a privilege to be a part of this very special moment! An evening we will never forget…
In closing, I would like to thank Mr. Deric DuQuaine for inspiring all of us husbands out there to go "all out" in blessing our families. Also, thanks to Tonda Gagliardo at the Mission Grille for such wonderful accommodations. And, thanks to my wife Jennifer for all her support. Without her, I couldn't paint a stick man. To God be the Glory.
And finally, Happy 10th Anniversary to Mr. and Mrs. Deric and Julie DuQuaine and MANY more to come!
"An Artist, An Influence"
(From Volume 16, issue 32 of the Peninsula Pulse newspaper)
You may or may not remember the last article I wrote, in which I said that my art teacher, John Gordon (
www.newmasters.com
) is my number one artist influence. Next to him would be a man whom I have never met, Johannes Vermeer (1632-1675).
Have you ever heard of a painting entitled, The Girl with the Pearl Earring? The one with the black background and a portrait of a woman turned gently towards you wearing a headdress, and a large, gleaming pearl hanging from her left earlobe? Yup, that's the one. Oh, and don't forget the amazing beauty of my personal favorite, The Milkmaid. The tones of yellow and blue, with a touch of red for the cardinal in the bottom corner are simply stunning. What this guy could do with a brush surpasses what most of us call Fine-Art today.
So what does this artist have to do with me? Johannes Vermeer's art has influenced my own since the day I first began painting from life. Who would have ever thought that a woman pouring milk into a basin or simply reading a letter could capture the affections of audiences throughout the centuries? I know it has captured mine. I have personally copied Vermeer's work more than once, and I know how long it takes even to come close to the quality he put into his work. I remind myself that the best always make it look too easy!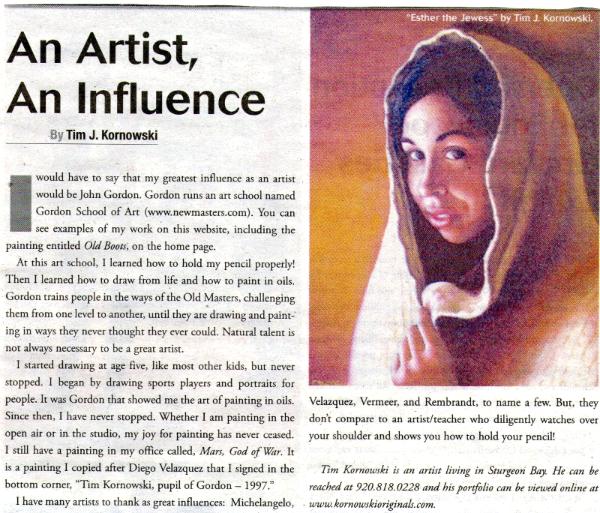 "An Artist, An Influence"

(From Volume 16, issue 17 of the Peninsula Pulse newspaper)

I would have to say that my greatest influence as an artist would be John Gordon. John runs an art school named "Gordon School of Art." (
www.newmasters.com
). You can see examples of my work on this website, including the painting entitled
Old Boots
, on the home page!
At this art school, I learned how to hold my pencil properly! Then I learned how to draw from life and how to paint in oils. John trains people in the ways of the Old Masters, challenging them from one level to another, until they are drawing and painting in ways they never thought they never could! Natural talent is not always necessary to be a great artist.
I started drawing at age 5, like most other kids, but never stopped. I began by drawing sports players and portraits for people. It was John Gordon that showed me the art of painting in oils. Since then, I have never stopped. Whether I am painting in the open air, or in the studio, my joy for painting has never ceased.
I have many artists to thank as great influences: Michelangelo, Velazquez, Vermeer, and Rembrandt, to name a few. But, they don't compare to an artist/teacher who diligently watches over your shoulder and shows you how to hold your pencil!